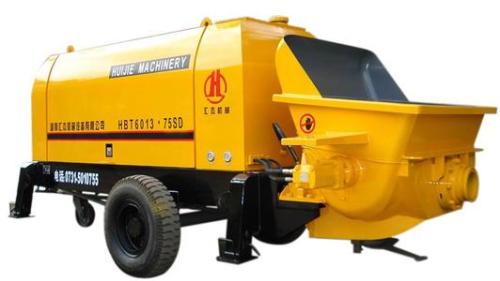 The concrete pump is composed of a pump body and a delivery pipe. It adopts a triple-pumping pump system, the hydraulic circuit does not interfere with each other, and has the function of anti-pumping. Look at the performance characteristics of the concrete pump below.

1, the use of three pump systems, hydraulic circuits do not interfere with the operation of the system.

2. With anti-pumping function, it can help to eliminate plugging faults in time, and can stop for a short time.

3, the use of advanced S pipe distribution valve can automatically compensate for wear and tear, good sealing performance.

4, the use of wear-resistant alloy glasses and floating cutting ring ' long service life.

5. The long stroke material cylinder extends the service life of the material cylinder and the piston.

6, the optimized design of the hopper ' easy to clean ' suction material performance better.

7, automatic centralized lubrication system to ensure effective lubrication of the machine during operation.

8, with remote control role, operation more safe and convenient.

9. All parts and components are all using the national standard and have good interchangeability.

CNC fiber laser cutting manchine is cutting-table structure designed machine with dual drive, effctive cutting range is from 1500mm to 6000mm. High-precision longitudinal and transverse linear rails drive high-precision helical gear and rack and it is available in speed up to 8000mm/min. Accelerated speed is 1G. Exchanging work tables are optional that optimize cutting productivity.

Made in China CNC Fiber Laser Cutting Machine

1.Technical specifications of CNC fiber laser Cutting Machine

Effective cutting length: 3000mm

Effective cutting width:1500mm

Max. speed:10000mm/min(returning speed)

CNC system:FSCUT

Laser generator:RFL-1000(Domestic sharp branch)

Smoke purification device: CCQ-9000

Cutting torch: 1group( Cyplite )

Torch THC:BCS100,elevating distance≥100mm

2.cutting speed parameter of CNC fiber laser cutting machine

The laser power and the cutting material thickness under certain conditions,

cutting speed varies with the composition of the material, specifically the ability

of different sheet metal cutting table below (for reference).
thickness

(mm)

speed

(mm/min)

pressure

(MPA)

thickness

(mm)

speed

(mm/min)

pressure

(MPA)

1000W

1mm

12000

0.6

1mm

15000

1.6

2mm

6000

0.6

2mm

5400

2.0

3mm

3600

0.5

3mm

1800

2.3

4mm

2700

0.4

4mm

1100

2.5

6mm

1200

0.15

8mm

960

0.13

10mm

600

0.13
3.RFL-1000 performance parameters of the fiber laser
| | |
| --- | --- |
| parameter | RFL-1000 |
| rated input voltage | 220±10%VAC |
| modulation frequency | 50kHZ |
| wave length | 915nm |
| laser power | 1000W |
| power consumption | <2kW |
| Size (length X width X height) | 485mm X 237mm X 663mm |
| weight | <50Kg |
| gas | Air: 9 oxygen bar: 8 bar nitrogen: 27 bar |
CNC Fiber Laser Cutting Machine

CNC Fiber Laser Cutting Machine,CNC Fiber Laser Cutter,CNC Fiber Laser Cutting Machinery,CNC Fiber Laser Router

SHIJIAZHUANG LONGXUAN TRADING CO., LTD , http://www.longxuanmachine.com