What is the difference between a high pressure suspension roller mill and a Raymond mill? High-pressure suspension roller mill is widely used in mining, building materials, food, medicine, chemical, fertilizer and other industries. It can be used for various quartz, marble, limestone, calcite, talc, feldspar, fluorite, barite. , granite, basalt, shale, graphite, gypsum, clay, shell, humic acid, slag, slag, construction waste, glass, ceramics, etc. Non-flammable and explosive materials with Mohs hardness below 9.3 and humidity below 6% Perform milling.

The high-pressure suspension roller mill, also known as the high-pressure mill, is one of the advanced mills optimized on the basis of the Raymond mill. It belongs to the earlier type of reinforcement of the Raymond mill. The direct improvement of the high-pressure mill is to increase the high-pressure spring system of the grinding roller, so that the high-pressure mill has a wider range of grinding materials than the Raymond mill, the grinding particle size is finer, and the grinding efficiency is higher. High-pressure mills are superior to the original Raymond mills in terms of grinding capacity and grinding efficiency, and the relative cost performance has been greatly improved.

In the high-pressure suspension roller mill main body, a high-pressure spring with a pressure of 1000-1500 kg is fastened on the roller hanger. After starting work, the grinding roller rotates around the main shaft, and under the action of the high-pressure spring and the centrifugal force, it is pressed against the grinding ring, and its rolling pressure is 1.2 times higher than that of the Raymond powder machine under the same dynamic condition, so the output is greatly improved.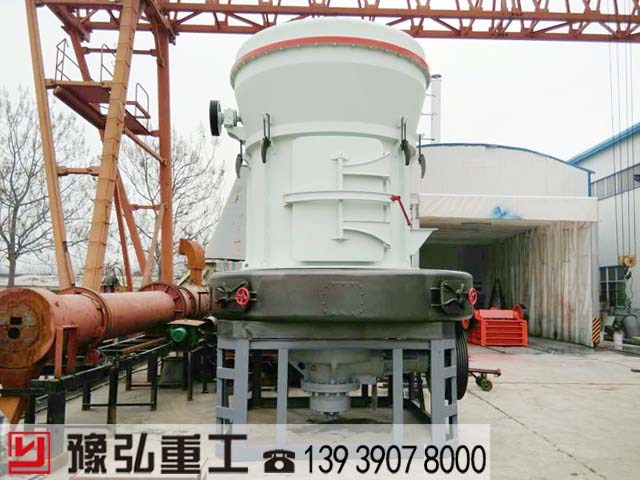 When the material to be ground enters the grinding chamber, it is shoveled by the blade and sent to the grinding roller and the grinding ring for rolling. The powder after rolling is brought into the analysis machine along with the circulating air of the blower, and the qualified fine powder is introduced into the cyclone with the airflow. The powder is the finished product, and the large particles fall back to the regrind. The circulating air is returned to the blower and the above process is repeated, and the residual air is purified by the bag filter.

After the grinding roller and the grinding ring reach a certain degree of wear, adjust the length of the high pressure spring to maintain a constant rolling pressure between the grinding roller and the grinding ring. This ensures stable production and fineness.

After many years of practice and continuous improvement, Raymond mill has become more and more perfect in structure, with high efficiency, low energy consumption, small floor space, low capital investment and no pollution in the environment. Therefore, it is widely used in the grinding of mineral products in the fields of metallurgy, building materials, chemicals, mining, etc. It is suitable for processing various non-flammable and explosive minerals such as gypsum and talc with Mohs hardness below 7 and humidity below 6%. , calcite, limestone, marble, potassium feldspar, barite, dolomite, granite, kaolin, bentonite, medical stone, bauxite, iron oxide red, iron ore, etc., the fineness of the finished product is 613 microns to 440 microns ( Between 0.613 mm and 0.44 mm), the combination of the analyzer and the fan can meet the requirements of different users.


Henan Yuhong Heavy Machinery Co., Ltd. specializes in milling equipment, drying equipment, calcining equipment, crushing sand making equipment, other equipment, etc. Welcome to call 13939078000

Auto Parts Used For Toyota Hiace

Rear Door,Toyota Hiace Middle Door Pillar,Hiace Rear Bumper Part,Toyota Hiace Rear Bumper

Baoying Shuguang Auto parts Factory , https://www.shuguangautoparts.com