The blasting work surface is accepted as a safety technical measure

(1) Overview of the work surface

1. Geological conditions of the working face

Things to work long, coal thickness, tilt angle, top and bottom slate and the like.

2, the work surface support situation

Support form and parameters, pillar and top beam model, roofing material, working face mining, etc.

3. Other matters that need to be explained

(2) Technical solutions and requirements

1. Collection range

Explain the scope of the collection and the equipment materials to be recycled.

2, collected as a technical solution

According to the mining technical conditions of the working face, the technical plan for collection is included: the control of the high mining before the harvest, the order of the construction for the returning shed, the laying of the net, the control of the top distance, the working surface and the transportation routes of the two lanes.

3. Other technical requirements.

(3) Preparation before the collection

Preparation and use of local ventilators and air ducts, preparation of various materials, cleaning and maintenance of working surfaces, preparation of equipment and transportation routes, etc.

(4) Engineering quality and safety management requirements

1. Roof management measures and requirements

The initial support force of the working face pillar, the control top distance, the special bracket requirements for the shed, the pump pressure requirements, and other technical measures to be taken, such as the support of the special sections such as coal roof, coal bottom and fault, and the measures of returning the column.

2. Safety facilities management and requirements

Anti-back rope, horizontal pin, etc.

3. Management and requirements of "one pass and three defenses"

Local ventilation system management measures and requirements, gas monitoring and management requirements, comprehensive dust prevention, anti-natural fire management requirements.

4. Transportation safety management requirements

Requirements for outbound transportation, loading and inclined lane transportation of supporting materials.

5, emergency, spare material configuration

Emergency, spare material name, quantity and location requirements;

6. Construction and labor organization arrangements

7. Other management requirements

(5) Organizational measures

1. Established as a leading group

2. Main responsibilities of the leading group

The implementation and implementation of the acceptance measures, and the team members' follow-up system.

(6) Drawings

1. Plan view of the roadway system of the working face

Mark the current mining and expected collection line position, and the two lanes recycling position.

2, the work surface support flat, sectional view

It is necessary to reflect the top time of the control.

(7) Attachments

Received as a meeting minutes and so on.

Goodsense 3.0-12.0Ton Diesel Side Loader Forklift advantages:

- Work in Narrow Aisle
- Side loading advantage
- Used of long objects

- Rubber Mounted Half Open Cabin

- Multi-Direction Operation

- 3 Wheel hydrostatic Drive

- Load Sensing Steering

- 4 Way Lever Positioning of Wheels

- Hydraulic Oil Cooler
General

Model

FDS30

Power Type

Diesel

Load Capacity

kg

3000

Load centre

mm

500

Tyre

Tyre

Pneumatic Tyre

Front Tyre

28×9-15-12PR

Rear Tyre

28×9-15-12PR

Overall Dimension

Lift Height

mm

3600

Fork Size

L×W×T

mm

1070×125×45

Mast Tilt Angle

F/R

.

4/6

Mast Lowered Height

mm

2420

Mast Extended Height(with backrest)

mm

4255

Length to face of fork(Without fork)

mm

4550

Overall Width

mm

2000

Cabin Height

mm

2480

Loading Plane Height

mm

890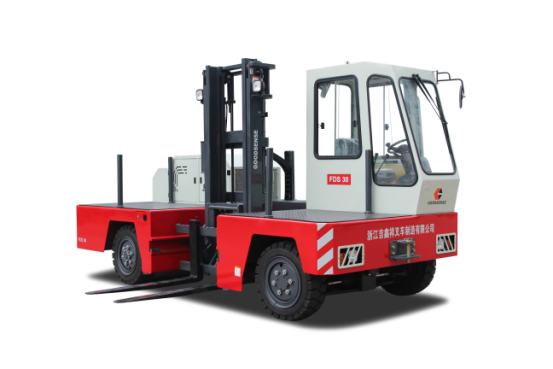 Application Area:

1.Warehouse

2.Port

3.Factory

4.Distribution Center

5.Logistics

If you have any other questions,please contact us directly.Our forklift are all with high quality,and you can choose any other engine to equip.It can be produced according to your idea.And we invite you to visit our factory.

3.0-12.0Ton Diesel Side Loader Forklift

Side Loader Forklift,Diesel Side Loader Forklift,12.0Ton Diesel Side Loader Forklift,3.0Ton Diesel Side Loader Forklift

ZHEJIANG GOODSENSE FORKLIFT CO.,LTD , https://www.dieselforklift.nl