Model NO.: Stainless Steel Mixing Tank

Made of Single-Layer Stainless Steel: Various Style of CIP Cleaners

Can Be Customized: Easy to Clean

Trademark: Li&Li

Transport Package: Woodern Box Package

Specification: GMP ISO9001

Origin: Guangzhou/Guangdong

HS Code: 8501520000

Name: Stainless Steel Mixing Tank

Automation: Manual, semi-automatic, full-automatic

Capacity: 100-1000L

Suitable Temp.: 0-100 celsium degree or higher upon requirement

Power: 380V/50Hz/3Phase or customized

Control System: Push button/PLC/touch screen; Optional

Material: 304/316L optional

Structure: 3 layers(inner bladder, jacket, insulation layer), 2 layers, 1layer upon requirement

Surface: Inner/outer polished, outer: Drawbench polished

Stirring method: One direction mixing or two direction(optional)

Stirrer type: Can be selected from anchor type, impeller type, frame type, high speed shear, magnetics type and etc.

Application: Can be used to mix and melt all kinds of materials in industries like pharmacy, cosmetics, chemicals, resins, paintings, confectionary, pigments and etc.,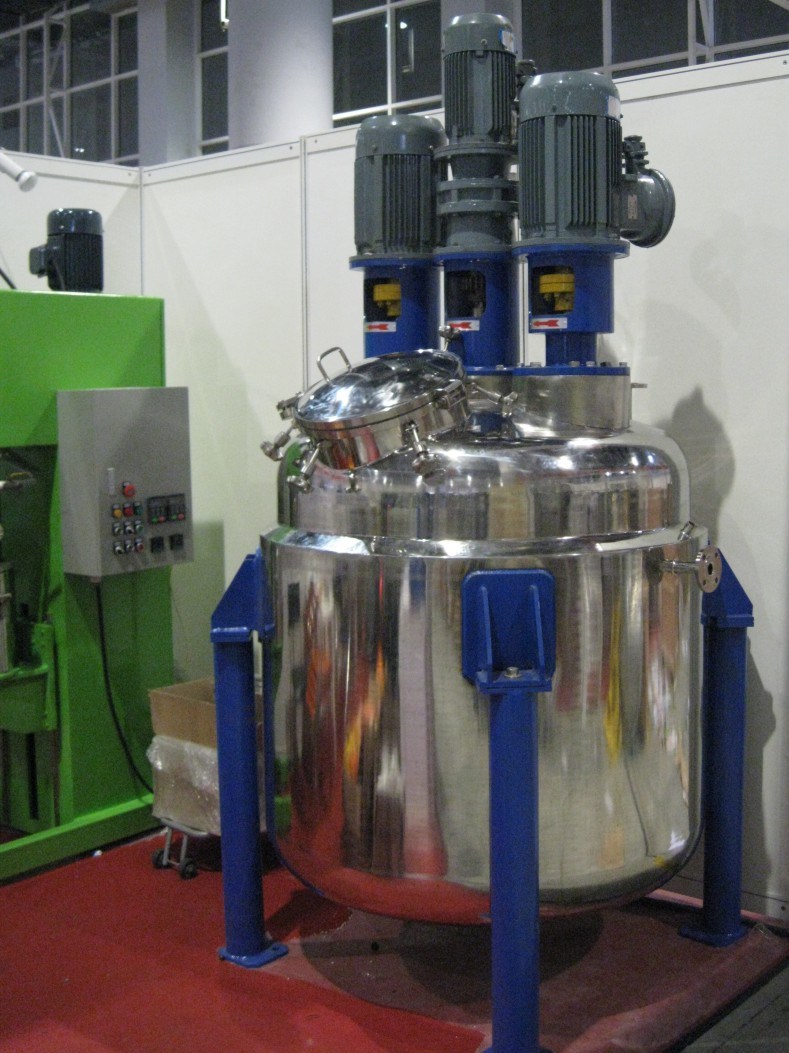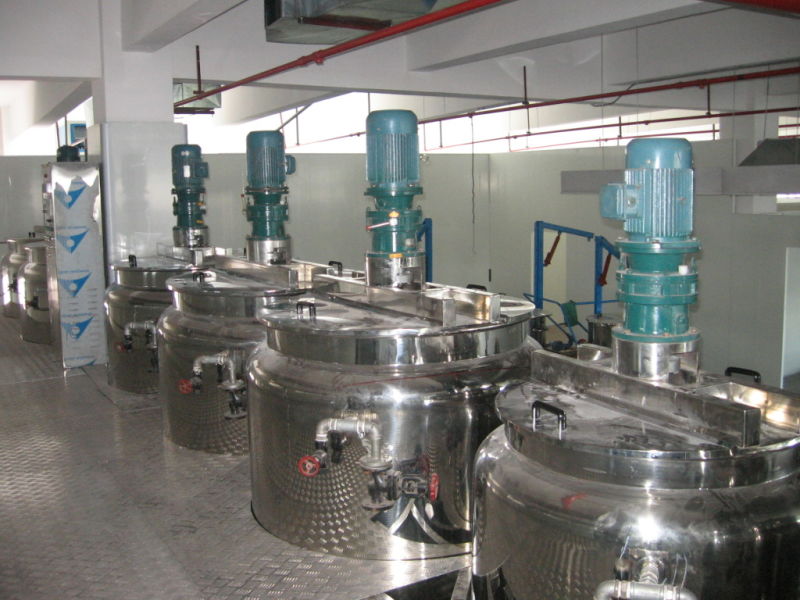 Technical Parameter

Effective volume
Dimension of tank
Total height
Diameter of inlet&outlet
Heat preservation layer
Motor power
Blending speed
(L)
(mm)
(mm)
(mm)
(mm)
(kw)
(r/min)
500
840*1000
2750
60
38
0.55
Common rotation speed 35,43,60 ; stepless speed reducer or dual-speed reducer are also available
600
920*1000
2850
60
38
0.55
700
990*1000
2850
60
38
0.55
800
950*1220
3000
60
38
0.55
900
1010*1220
3000
60
38
0.55
1000
1060*1220
3150
60
51
0.75
1500
1160*1500
3350
60
51
0.75
2000
1340*1500
3410
60
51
1.1
3000
1410*2000
4000
60
51
1.5
4000
1620*2000
4250
60
51
1.5
5000
1810*2000
4300
60
51
2.2
6000
1980*2000
4550
60
51
2.2
7000
1930*2440
5000
60
51
2.2
8000
2060*2440
5000
60
51
3
9000
2180*2440
5050
60
51
3
10000
2300*2440
5050
60
51
3
12000
2270*3000
5600
60
51
4
15000
2530*3000
5700
60
51
4
20000
2640*3660
6400
60
51
5.5
Performance&Features

1.Tank and tank with the same or different forms of head structure, in the form of a jacket or a single combination of different requirements noted in a device structure.

2 .magnetic stirring device into a magnetic stirrer and under magnetic stirring on a magnetic stirrer suitable capacity (3-50m3) and large-torque device. Under magnetic stirring with capacity of less than (3m3) and equipment with high hygiene requirements.

3. interface with the international standard ISO standard quick chuck, the material is imported 316L or 304, the inner surface of the mirror-polished Ra ≤0.28 μm, the outer surface of the matte or mirror polished.

4 .Material: cylinder 304 and 316L (optional). 5 level gauge with universal flat level gauge, level gauge glass, level gauge static pressure sensor, ultrasonic level meter for selection.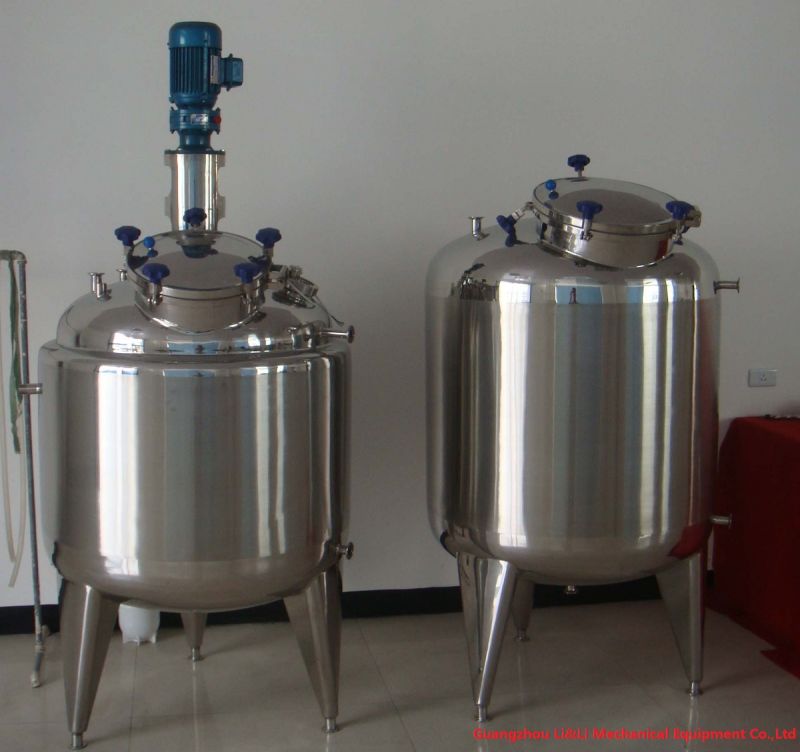 Why choose our product? 

1. Professioal and rich experience

2. Good quality cheap price

3. CE &2008: 9001 certification&SGS certificate

4. Delivery on time &Â responsible after sale service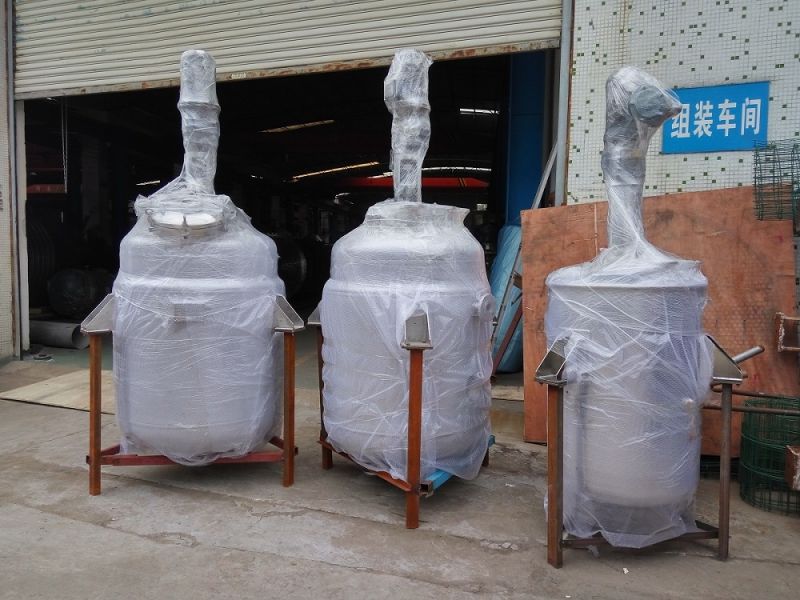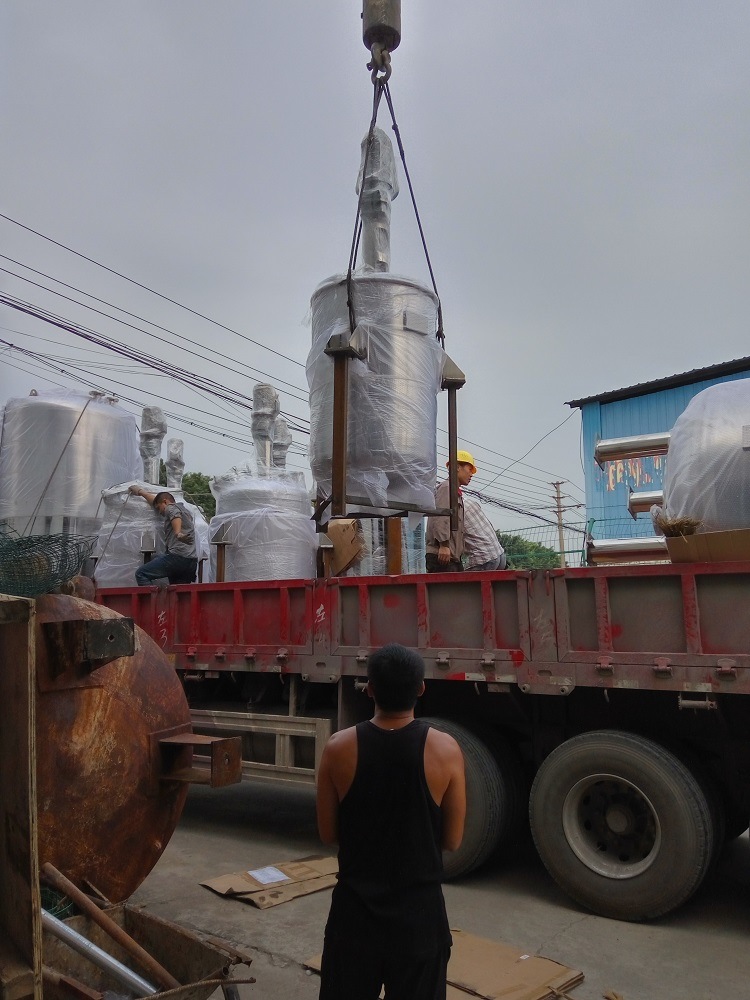 About us

Li&Li Mechanical Equipment Co, . Ltd. Is professional corporation that mainly operates design, manufacture, installation and debugging of cosmetic, pharmaceutical, chemical, food, etc. Equipments. Enterprise strictly implements the ISO9001 standard management, with strong technical force, complete detection equipment, advanced process and complete product variety which including all kinds of Reaction Kettle, agitator bath, storage tank, vacuum emulsifying machine, conveyor, filling machine and non-standard equipments process and manufacture; Electrical engineering, automatic-control engineering, pipe design and equipment installation. 

Interchangable AHP AHF EP MC series Slurry Pump Parts and FFY frame Slurry Pump parts
PU material slurry pump parts
Interchangeable AHP slurry pump parts
Interchangeable AHF slurry pump parts
Interchangeable EP MC series slurry pump parts

Interchangeable FFY frame slurry pump parts

Polyurethane impeller (PUR and PU) is made by Polyurethane which is a polymer composed of a chain of organic units joined by carbamate (urethane) links. This impeller have better performance than nature rubber impeller for the slurry transportation.

We supply all kinds of slurry pump wet parts with excellent quality in competitive price.

These parts are all standard parts, can fit to the slurry pumps perfectly.

We supply interchangeable metal and rubber parts for slurry pump series(AH, HH, SP, G, L, ZJ, M models).

various kind of centrifugal pump spare parts , such as Slurry Pump Rubber/metal Impeller,

Metal/ Natural rubber liners, Expeller, etc.

Product Materials:

High chrome alloy: A05, A07, A49, etc.

Natural rubber: R08, R26, R33, R55, etc.

Other materials can be supplied as requirements .

Casting, shaft, throat bush, front liner, back liner, wear plate, case, cover, stuffing box, lantern restrictor,

cover plate bolt, volute, throat bush, shaft sleeve, cover plate liner, frame plate liner ,neck ring, expeller ring,

expeller, bearing assembly, volute liner, volute packing, bowl, bearing cartridge, cover plate liner, impeller,

closed impeller, open impeller

OEM Service

We also provide OEM service according to customer's special requirements .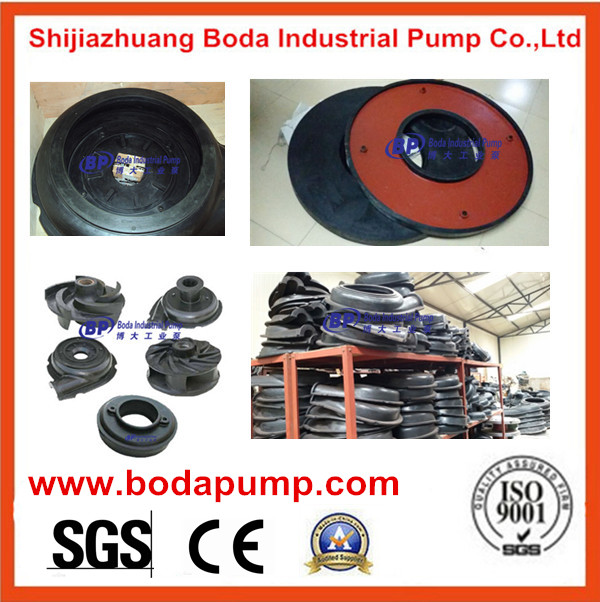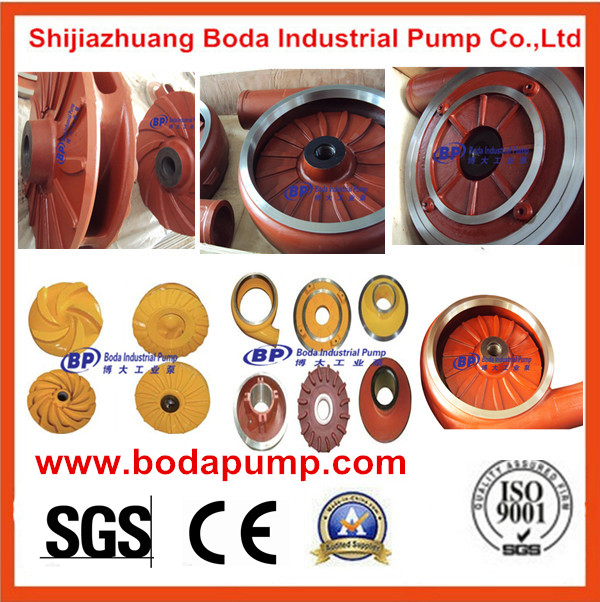 Slurry Pump Parts

Warman Slurry Pump,Replacement Slurry Pump Parts,Dredge Slurry Pump,Dredge Gravel Slurry Pump

Shijiazhuang Boda Industrial Pump Co., Ltd. , https://www.mineralslurrypump.com