Model NO.: SMT Automatic Loader

Production Scope: Product Line

Color: Grey

Trademark: ETA

Transport Package: Wooden Box

Specification: 100 set/month

Origin: China

SMT Automatic loader with full automation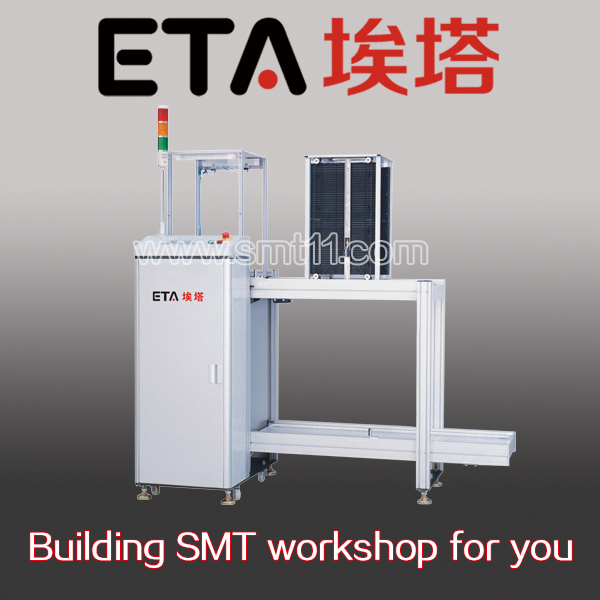 1. Special aluminum alloy body, better to know the working status of magazines.

2. Solid cast lift design improving the stability.

3. Panasonic PLC control, multi-function electrical circuits and program design

To ensure smooth working line.

4. Humane programming, 4 PITCH chooses, can set the step of receiving/sending PCBs.

5. Standard SMEMA interface, can be connected with other automation equipments.

6. Using engineering plastic flat strip for magazine's transmission.

7. PCB transmission speed adjustable.

8. Three-point positioning, up-down pneumatic clamping to ensure accurate location of magazines.

9. Pushing protection system ensures the PCB will not be damaged.
ETA Auxiliary Equipment
 
Specifications 
SMTÂ PCBÂ Loader
Specifications 
SMTÂ PCBÂ Loader
Dimension
1646*726*1250mm
Magazine size
355*320*565mm
PCBÂ size
330*(60-250)mm
Voltage
Single phase 220V,50/60Hz,100W 
PCB convey height
900 +/- 20mm  
Air compressor
5~7kg/cm2
PCB lifting step
10,,2,30,40,,50mm
Gross weight
 (about)200kgs 
 
 
 
 
Specifications 
SMTÂ conveyor
Specifications 
SMTÂ conveyor
Dimension
Rail Length*734*910mm
Rail length
0.5,0.8,1.0,1.2,1.5m
PCBÂ width
50~350mm
Voltage
Single phase 220V,50/60Hz,100W 
PCB convey height
900 +/- 20mm  
Control method
Relay Board
Speed
0~2000mm  
Gross weight
 (about)75kg
 
 
 
 
Specifications 
SMTÂ PCBÂ Unloader
Specifications 
SMTÂ PCBÂ Unloader
Dimension
2440*726*1250mm
Magazine size
355*320*565mm
PCBÂ size
330*(60-250)mm
Voltage
Single phase 220V,50/60Hz,100W 
PCB convey height
900 +/- 20mm  
Air compressor
5~7kg/cm2
PCB lifting step
10,,2,30,40,,50mm
Gross weight
 (about)220kgs 
 
 
 
 
Specifications 
Semi-auto stencil printer
Specifications 
Semi-auto stencil printer
Working area
 300X400mm
Accuracy
 +/- 0.05mm
Frame size
370X470mm,420X520mm,550X650mm
Voltage
Single phase 220V,50/60Hz,100W 
PCBÂ thickness
0.2-2.0mm  
Machine size
L900XW900XHl650mm
squeegee 
Stainless steel
Gross weight
 (about)250kgs 
Thrust Ball bearing Co., Ltd. , http://www.cnrollerbearing.com