From June 3rd to 4th, Shuangfan YJQ-145VBIII new pneumatic cradle seminar was held in Zhangjiagang Shuangfan Textile Equipment Co., Ltd. Zhang Huailiang, vice chairman of the China Textile Engineering Society, Professor Tang Wenhui, expert of China's fine yarn drafting theory at Donghua University, and Xu Honggen, deputy director of the Cotton Textile Professional Committee of the China Textile Engineering Society, and other relevant experts attended the seminar.

The participating experts visited the pneumatic cradle production line of Shuangfan Textile Equipment Co., Ltd., and went to the site of the new pneumatic cradle manufacturer Jiangyin Tianda Textile Co., Ltd. for on-site inspection. Experts believe that the Shuangfan YJQ-145VBIII new pneumatic cradle has reached the domestic advanced level.

Zhangjiagang Shuangfan Textile Equipment Co., Ltd. is a spinning and distributing enterprise specializing in the production of pneumatic cradle. YJQ-145VBIII new pneumatic cradle series pneumatic V-shaped drafting cradle is independently developed on the basis of YJQ-145VII, YJQ-145VBIIV-shaped drafting cradle, and has obtained national patent. The product inherits the pressure stability of the pneumatic cradle, the difference between the ingots is small, the pressure adjustment is convenient, the whole stepless pressure regulation can be realized, the semi-depressurization and the full pressure release can be realized when the vehicle is stopped, and the roller grip line is not caused by The relative slip and the detail or breakage can meet the requirements of the spinning process of heavy ingot, heavy pressurization, large drafting and high speed. The mechanism is compact and easy to operate and maintain. In addition, the new pneumatic cradle has 29 technical improvements in strengthening the cradle pressure stability and three-line parallel accuracy, and the appearance quality and internal quality of the product have been improved. After random testing by the National Textile Machinery Quality Supervision and Inspection Center, its three-line parallel accuracy and pressure deviation values ​​have exceeded the current industry standards.

It is understood that YJQ-145VBIII high-precision pneumatic cradle currently has nearly 400,000 spindles in Huafu Holding Group, Hebei Ningfang, Shandong Shanghe Hongye Textile, Shandong Laiwu Taifeng Textile Group, Shandong Huale, Shandong Crown Star Group and other more than 20 high-yarn mills use, and the operation is stable, the quality of yarn is high.

Evotec Industrial Generator including 50HZ Generator ,50HZ Industrial Generator,Three Phase Industrial Generator, Brushless Industrial Generator.Our alternator are widely used in industry, commercial, real estate, hospital, hotel, railway, telecommunications, data-centers and mining etc.



The specific technical features are listed below:

Speed: 1500rpm or 1800rpm
Frequency: 50 HZ or 60HZ
Number of Poles: 4
Power: up to 3500KVA
Voltage: 110V-690V,High Voltage:3.3KV-13.8KV
Insulation: class H
Power Factor: 0.8
Voltage Regulation Rate: ±0.5%
Altitude: 1000M
Temperature Rise Class: class H
Overload:10% for 1 hour in every 12 hours
Degree of Protection: IP21 (IP23, IP44, IP54 on request)

Ambient Temperature: 40



Special Features:
higher motor starting capability
a reliable long life with superior class H insulation
high thyristor load withstand capability for mobile phone and telecom applications
ease of maintenance with integrated components and outboard exciter/rotating rectifier
wide range of coupling discs/adaptor for single bearing configuration, suitable for wide range of engine brands



50HZ Industrial Generator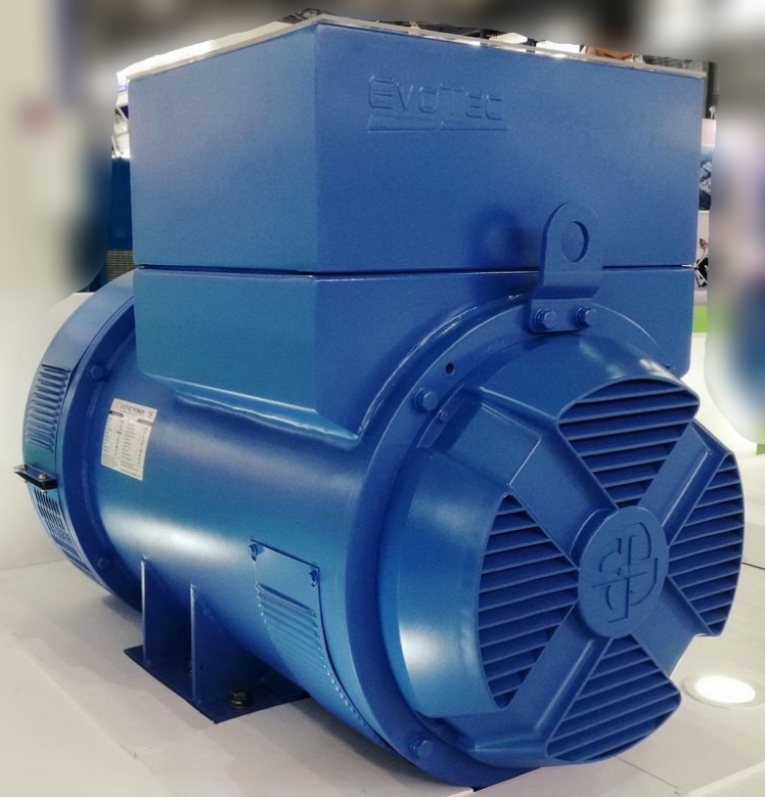 50HZ Industrial Generator

50HZ Generator,50HZ Industrial Generator,Three Phase Industrial Generator,Brushless Industrial Generator

EvoTec Power Generation Co., Ltd , https://www.evotecgen.com