Model NO.: RZCRT5-2516T

Layout: Horizontal

Cutting Tool: Vibration Knife

Table Type: Conveyor Table

Effective Working Area: 2500mm*1600mm

Cutting Thickness: 0-25mm(Customized Cutting Machine Can up to 50mm

Cutting Speed: 0-1200mm/S

Motor: Servor Motor

Material Fixing Method: Divisional Vacuum Absorption

Air Pump Power: 9kw

Voltage: 220V

Trademark: RUIZHOU

Transport Package: Standard Wooden Case

Specification: 3300X2200X1350MM

Origin: China

HS Code: 84413090

Ruizhou Auto Feeding CNC Car Seat Car Mat Cover Cutting Machine  

Ruizhou cnc cutting machine applies vibrating knife on the cutting head. It's possible to cut a wide range of car mats materials like Loop Material, PU-based Sponge, PU, Composite Material, PVC; Rubber; Jean etc.Due to the good performance and stable quality, Ruizhou sample cutters have been widely used for automotive interior (universal car mats, special car mats, car seats, handle parts ...) sample making or small bulk production.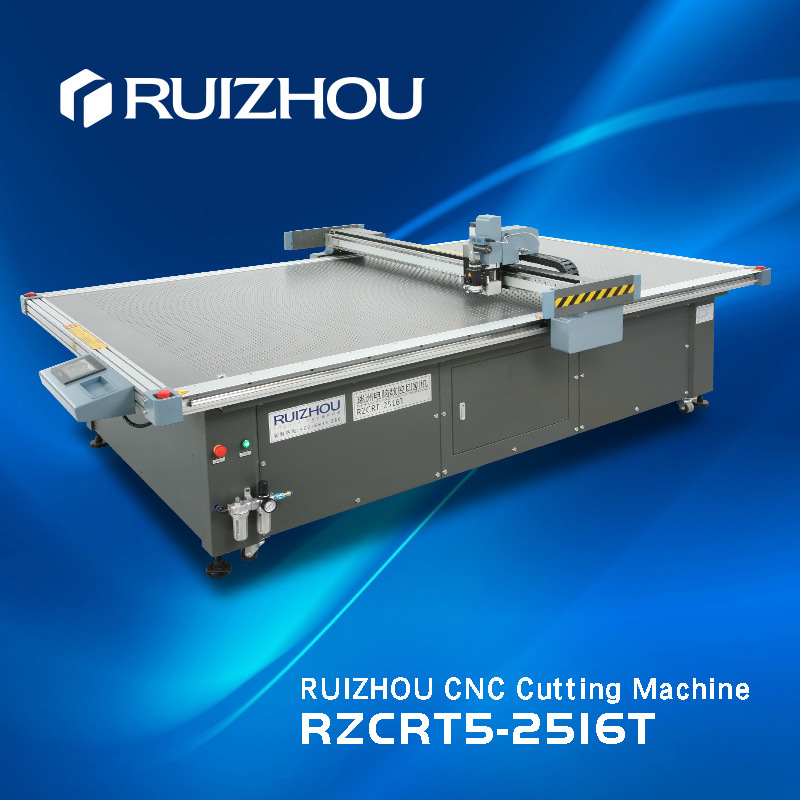 Parameter
Item Number
RZCRT5-2516T
Cutting speed
0-1200mm/s
Effective working area
2500mm*1600mm
Air pump power
9KW
Cutting thickness
0-25mm(Common); 0-50mm(High)
Cutting Materials
Corrugated paper, Honeycomb board, Cardboard, Plastic, Rubber board, Grey board, PVC, PU, Acrylic, composite materials, etc.
Tools
Oscillating knife
V-cut, router, creasing wheel, punching tool, 
Marking pen
Material fixing method
Divisional vacuum absorption
Mechanical resolution
0.07mm
Software resolution
0.025mm, 0.01mm, 0.1mm (optional)
Interface of transmission
Network port
Buffer capability
Once fast transfer
Command system
HP-GL and GP-GL compatible formats
Digital Control Panel
Touch screen
Transmission Materials
Imported straight line guide track, gear rack
Motor
Servo motor
Cutting Blade Rotate
18000r/min
Working Voltage
AC 220V ± 10%, 50HZ (Machine); AC 380V ± 10%, 50 HZ (Air Pump)
Tools &Â Functions

This package cutting machine has a multifunctional working head. The working head can be installed with different working tools. With different working tools this package cutting machine is professional and suitable fo users with various kinds of purpose.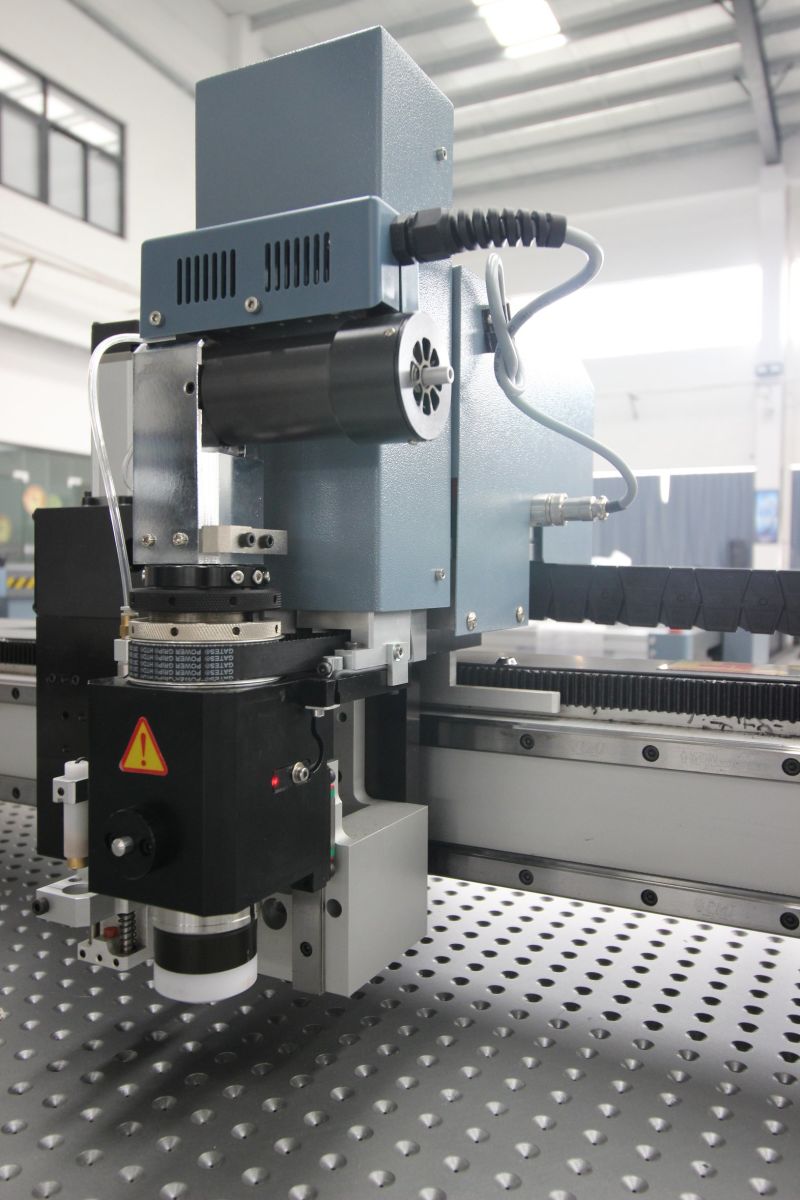 1. Oscillating cutting tool: it is the main cutting tool with a vibrating knife. The characteristics are fast, accurate and no burning nor smell.
 

   Cutting Samples of Car Seat Cutting Machine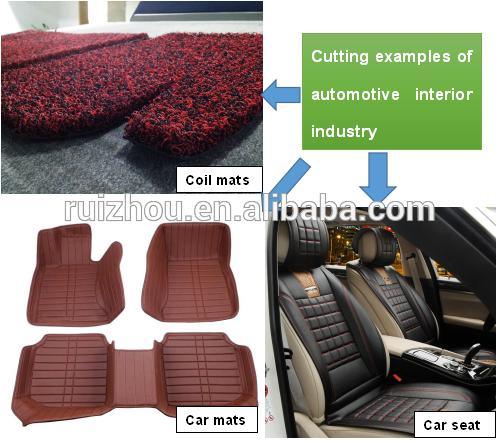 Advantage of Our CNC Cutting Machine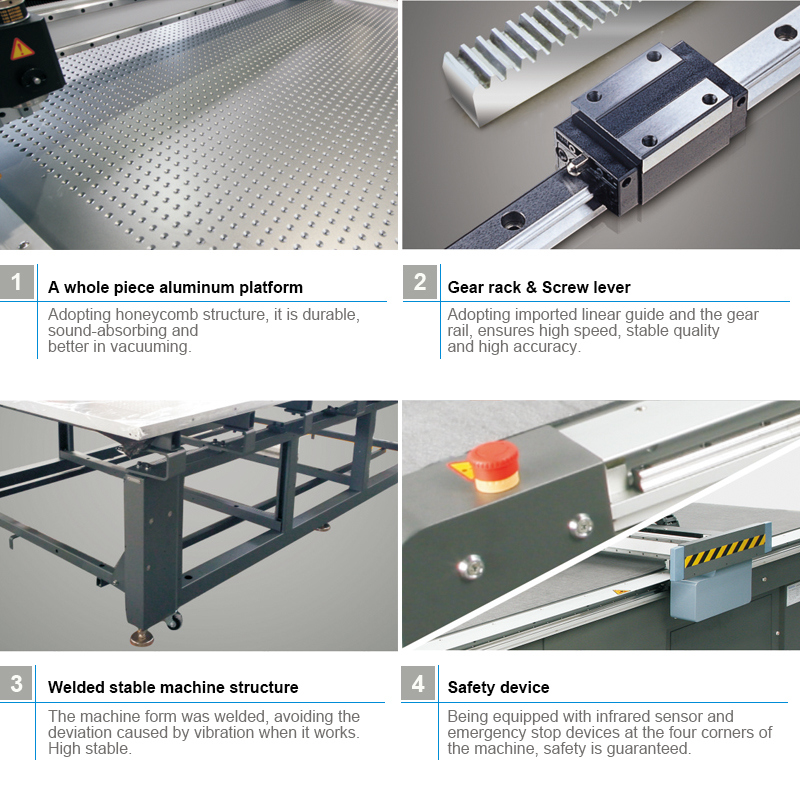 1. Time Saving: The machine cuts by vibration knife. It's possible to finish cutting 3 pieces of 4D or 5D car mats within 3 minutes, much faster than cutting by hand. It guarantees fast output of customized car mats. 

2. Material Saving:

Pattern nesting can be done and checked carefully before cutting, avoiding hiden lost during careless cutting by workers. It can save at least 5% materials than manual cutting. 

3. Storage Room Saving:

Cut whatever you want, whenever you need. No need to have a large storage room for a large quantity of ready car mats. 

4. Flexibility:

Each customer can pick up the materials, patterns they like to make the special car mats for their special cars, expending a large automotive beauty industry at your end!

General Production Procedures for Special Car Mats:1- Get ready for the car mats models

     You can make the car mats by scanning paper patterns using A0 digitizer to make digital pattern files.

     Or you cna use 3D scanner to scan the car and directly get the car mats digital files.

2- Car mats pattern nesting

     You can do the pre-nesting by using automatic nesting software or do it manually. 

3- Material preparation

    Choose the material and patterns you like from your materials. 

4- Car mats cutting

     Send the digital car mats file to the machine and start cut on your material. You can pick up the parts after a few minutes.

5- Car mats rapping and stitching

    Collect all the cut parts to the stitching room, make the rapping of the edge by using the rapping machine. Join the parts by using stitching machines. 

Package of Our CNC Cutting Machine

The package is one part of the factory production line. The standard overseas wooden package has also to be quality controlled in order to guarantee the products be perfect when they arrive at your hands.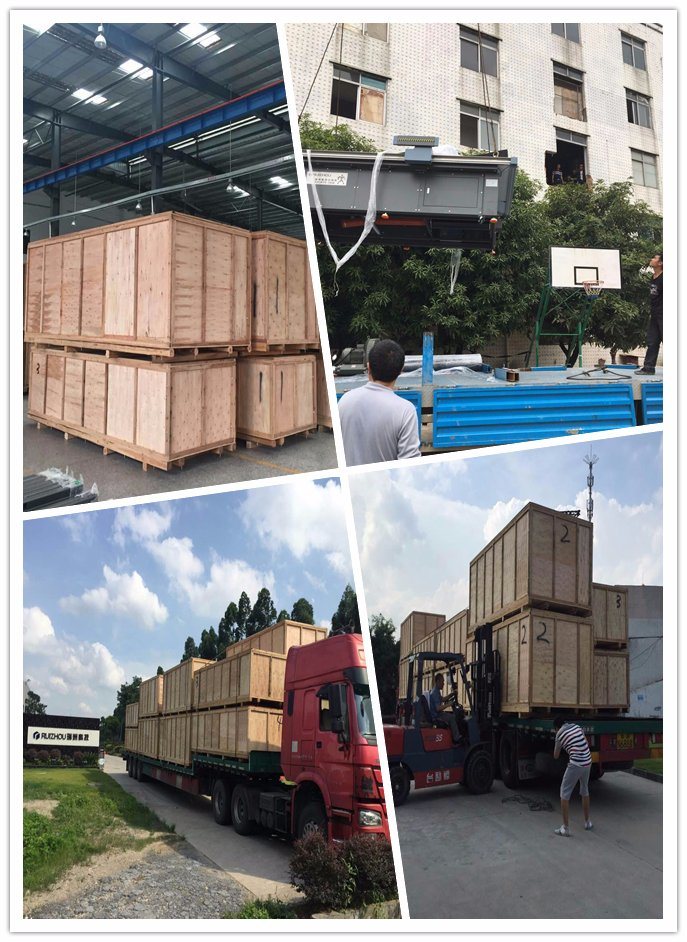 Company Show

Since 1995, RUIZHOU has been concentrating on researching and developing of CAD/CAM system. At present. RUIZHOU is a National High-Tech Enterprise famous at home and abroad. During the past years it has been developing better and better with winning lots of honors on the way.  According to the evaluation by HC International Inc in 2014, our company is the TOP ONE supplier in the domestic soft material cutting system area. Ruizhou has been awarded "Top Ten Footwear Machine Enterprise""Top Ten Innovative Enterprise""The Most Influential Enterprise".RUIZHOU has gained over 50 patents. They are 5 China Invention Patents, 24 Utility Model Patents, 9 Design Patents and 13 Software Copyrights. And there are 7 Invention Patents and 2 PCT Patents under auditing.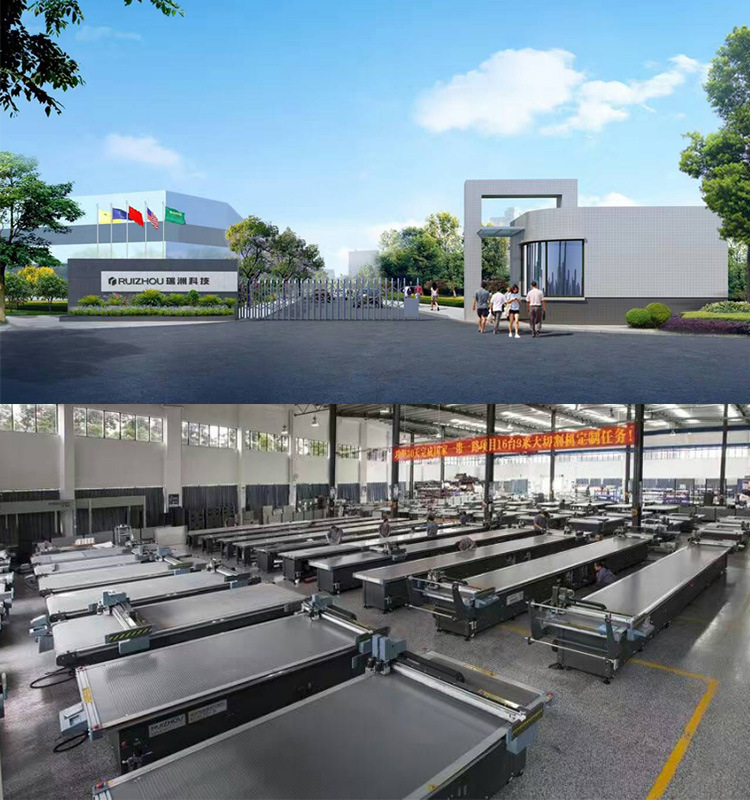 Related Products of Our CNC Cutting Machine
Item Number
Working Area
RZCRT5-1007E
1000X700MM
RZCRT5-1510E
1500X1000MM
RZCRT5-1813E
1800X1300MM
RZCRT5-2516E
2500X1600MM
RZCRT5-2516EF
2500X1600MM
(with automatic feeding shelf)
RZCRT5-3016E
3000X1600MM
RZCRT5-3016EF-2H
3000X1600MM
(with double cutting head )
RZCRT5-3625E
3600X2500MM
RZCRT5-3625EF-2H
3600X2500MM
(with double cutting head )
RZCRT5-9009
9000X900MM
RZCRT5-9009-2H
9000X900MM
(with double cutting head )
RZCRT5-12009-2H
12000X900MM
(with double cutting head )
RZCRT5-12016-2H
12000X1600M
(with double cutting head )
Warranty & afert sale service 
1.One year guarantee for whole machine except of consumables such as knife blade, mat.
2. A free training at our company
3. 24 hours technical support
4. Calling or door-to-door service
5. User friendly English software, usual manual and videos.
 

Note
Please contact with us for an accurate price;
It will be appreciated if you could kindly advise us your requirements in details!

 

High efficient motors take measures from design, materials, and workmanship,for instance, it use reasonable number of fixed and rotor slots, fan parameter and Sine winding and other measures to reduce the wastage. Then the efficiency can be increased by 2% - 8%, an average increase of 4%. From saving energy and protecting environment, high-efficiency motor is the trend of international development.

High Efficiency Motor Core,Energy Efficient Motors Core,Electric Motor Core,Ac Electric Motor Core

YUYAO YUANZHONG MOTOR PUNCHING CO.,LTD. , http://www.yuyaoyuanzhong.com