Model NO.: ZX-1214V

Power Source: Electric

Layout: Horizontal

Cutting Type: Digital Cutting, Dieless, No Laser

Working Area: 2500*1600mm (L*W)

Cutting Thickness: 0.1-25.0mm(Depend on The Material)

Cutting Precision: 0.1mm

Working Voltage: AC 110V/220V/380V, 50Hz

Rated Power: 11kw

Max Cutting Speed: 1200mm/S

Safety Device: Infrared Sensors, 4 Emergency Stop Bottons

Drive System: Servo Motor, Linear Guideway

Fixed Type: Intelligent Vacuum Adsorption

Trademark: Zhuoxing

Transport Package: Wooden Case

Specification: 3.43*2.50*1.40m (L*W*H)

Origin: Shandong, China

oscillating knife leather belt cutting machine for sale     

 

Zhuoxing's CNC knife cutting machine is a new solution for cutting leathers.

It can both handle artifical leather and natural leather.

With great precision and computer control, avoid errors of manual working, our machine supplies the most accurate and steady produce.

This machine cutting without die, it recognizes electronic patterns from compute, saving the cost and time from traditional die cut, any change in shapes, sizes can be done on computerm, then finished cutting in seconds.

Dieless cutting supplies the maximum flexibility to help you suit the changing market.

With the help of nesting software, it highly improves the utilization of material.

This machine uses knife cut but not laser, so 

1. no black/yellow, hard edge, edge cut by knife will be smooth, clean and natural

2. no smoke and smell, more environmental-friendly

3. high-precision cutting quickly

4. future maintenance is easy and safe

With a rang of tools, the machine can reach different functions, like cutting, punching, drawing and more.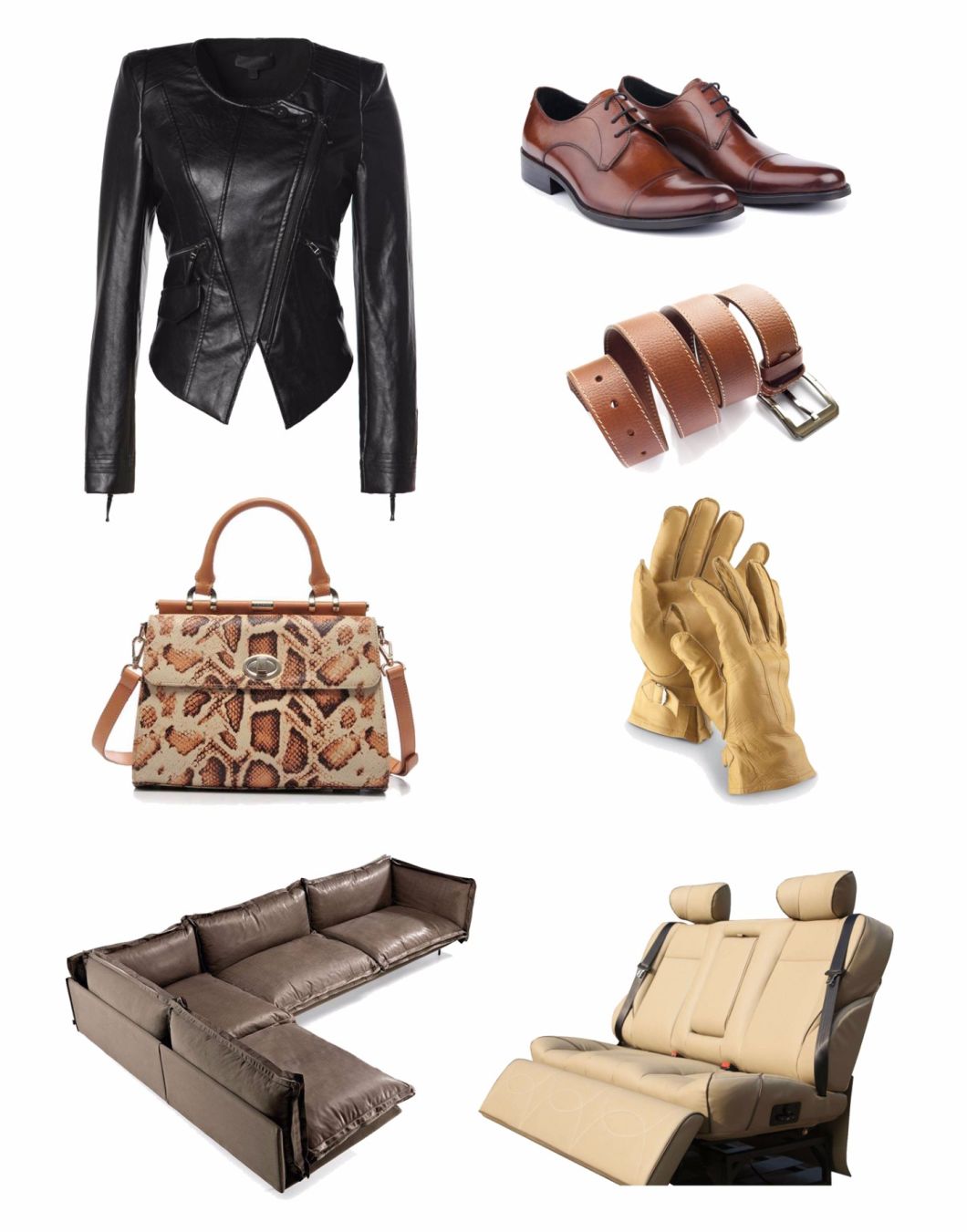 Parameter configuration
| | |
| --- | --- |
| Model no. | ZX-1214V / ZX-2516V /ZX-3020V |
| Working area | 1200x1400 / 2500x1600 / 3000×2000mm(L*W)(accept customization) |
| Max cutting speed | 1200mm/s |
| Cutting thickness | 0.1-25.0mm(depend on material) |
| Cutting precision | 0.1mm |
| Working voltage | AC 110V 220V 380V±10%, 50HZ |
| Rated power | 11KW |
| Transmission interface | Ethernet |
| Control panel | Liquid crystal display |
| Fixed type | Intelligent vacuum adsorption |
| Drive system | Fuji servo motor, Hiwin linear guideway, rack drive |
| Safty device | Infrared sensors, 4 emergency stop buttons, rapid response, safe and reliable |
| Cutting extent | Full cut |
| Applicative material | PU, PVC, artificial leather, natural leather, fur, other similar materials   |
| Standard configuration | vibration knife cutting tool, red light pointing, drawing pen |
| Other optional configuration | punching tool, scanner, camera, automatic feeding |
| Operating characteristic | Can work offline; 24 hours continuous and efficient working |
Detail pictures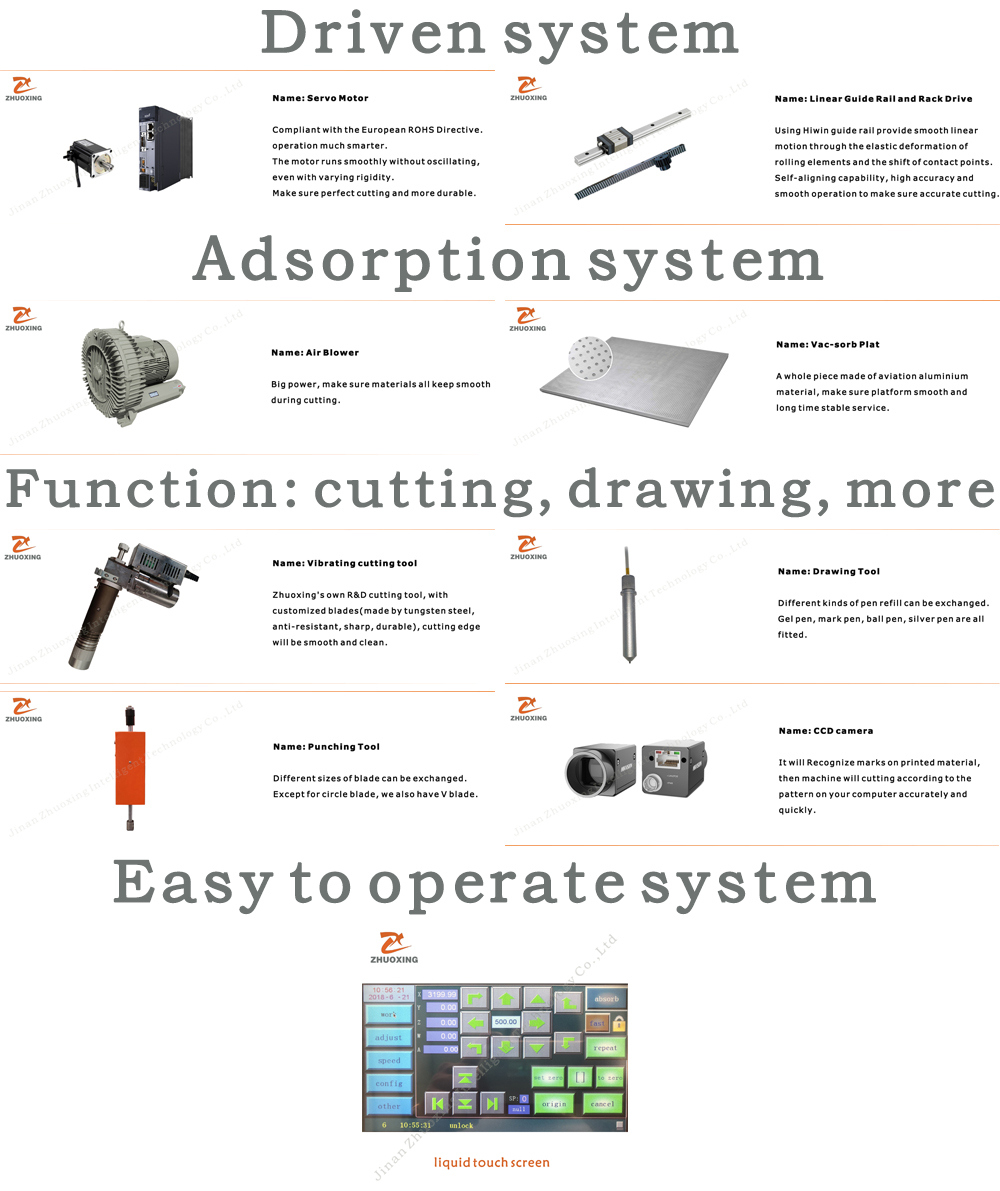 Package and transportation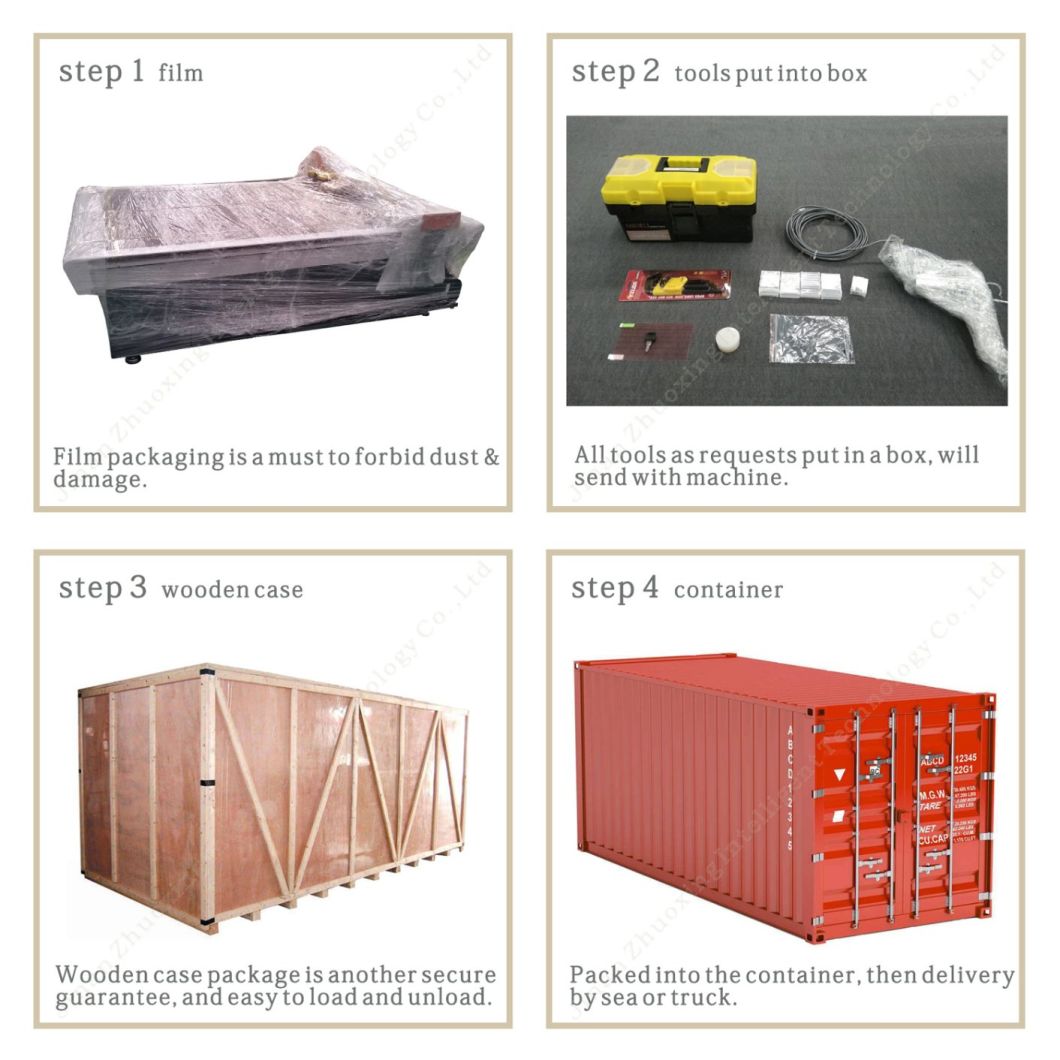 FAQ

Q: 1. How can I choose the suitable machine?

A: Please provide us some info, then we can recommend you the suitable machine:

1)What materials are going to cut? Are they rolled or not? Breathable or not?

2)What's the largest size of original materials?

3)What's the thickness of materials?

4)Excepting for cutting, do you need more functions, like drawing, punching holes, scanning, feeding, CCD camera, etc.?

Q: 2. Can you design a machine for me depending on my requirements?

A: Of course, we will give our professional suggest and discuss details with you for the machine which matches all the requests with best cost performance. 

Q: 3. What should I do if the machine has any problem in future?

A:Â We supply online/phone technical support and door to door service. Anything confuse or not goes well, pls contact us in the first time.

Q: 4. What's the warranty policy?

A:Standard warranty is 12 months upon delivery. 

Main parts are free of charge(except consumable parts) when problems happened because of quality problem during this period.

Problems caused by wrong operate will also well-solved, but not for free.

We also supply life long after-sales service. No matter when, you can guarantee our best service for your machine.

Q: 5. If I don't know this machine before, how can I operate it?

A: We supply face to face training and provide operating video, user manual, and telephone calls to help. 

It's easy to learn, one inexperience people can learn it within one day.

Our certifacations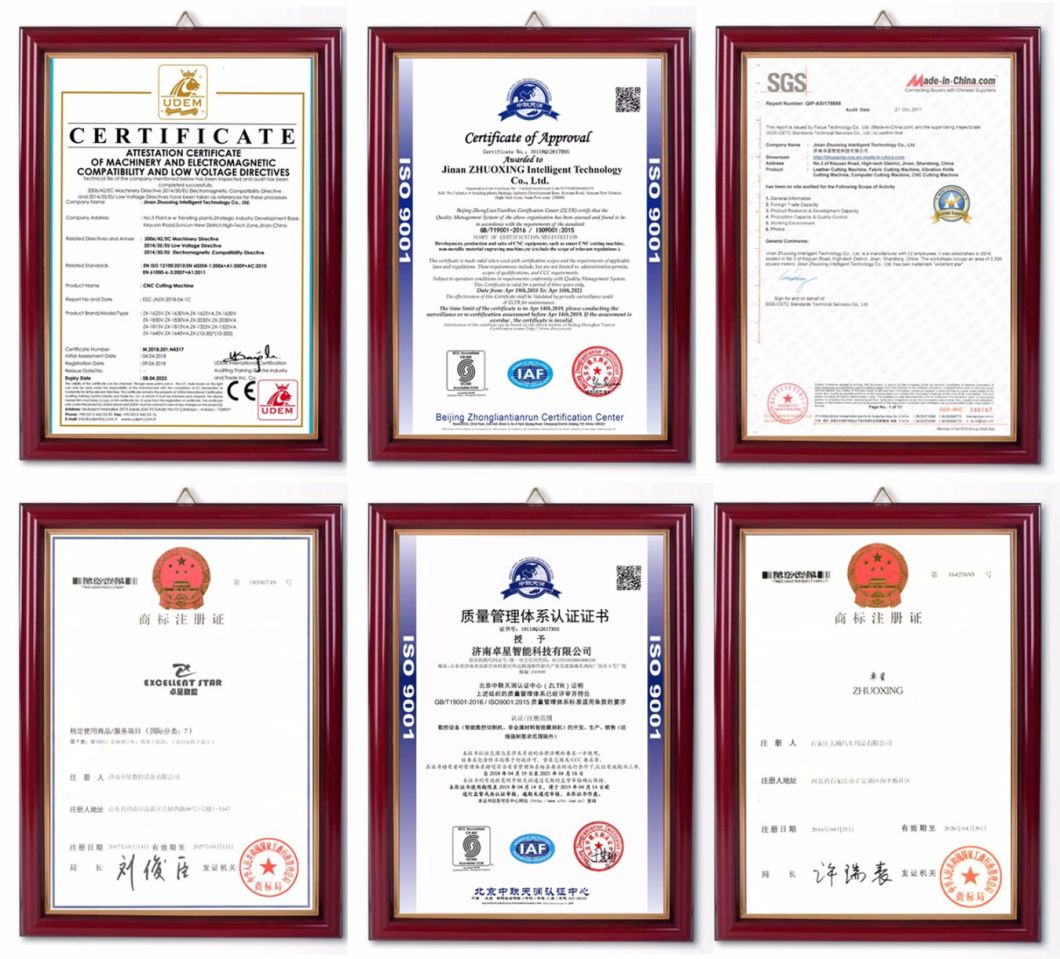 Our Company

Jinan Zhuoxing Intelligent Technology Co. Ltd is a high-tech enterprise which is specialized in research and development, production, sales and service of CNC knife cutting equipment and related CAD/CAM software system.

Zhuoxing supply an automated, computerized cutting systems cut with accuracy and repeatability and have been engineered for single, low-ply cutting requirements.

Precision cutting tools offer the utmost flexibility for hundreds of soft and some hard-to-cut material applications in various industries, such as Garment; Shoes & Accessories; Gasket; Packaging; Advertising; Home furnishing; Automotive Interiors; Arts & Crafts; Toys; Sporting goods; Camping & Outdoor gear, etc.

Zhuoxing supply the ideal solution for prototyping, short-run production and full production runs, tackling down challenges of customization and fast delivery.

We have had great success in China, and will be powered by innovation and uncompromising standards in the future.

Some info please share with us for supply a suitbale machine for you

1. which kinds of materials are going to cut?

2. what's the largest size of original material?

3. what's the thinkness of the material?

4. what's the smallest diameter during cutting?

5. except for cutting, do you need more functions?

6. what's the expected production efficiency?

Hubei Jiangnan Special Automobile Co., Ltd is a leading Fire Fighting Truck manufacturer in China. our fire engine not only has a very good market share in China domestic, we also export many to overseas every year. Our fire fighting vehicles meet ISO 9001:2008 quality standards, also meet China domestic CCC quality standards, Because of CCC quality certificate, not only can make our fire trucks can be sold to companies, but also sell to the troops.
We exported 469 units fire fighting trucks to Philippine in 2015, it was a fire truck tender issued by Bureau of Fire Fighting in Philippine. we also export to Myanmar those years through government tenders, besides, our fire fighting trucks also welcomed in Combodia, Mongolia, Serrileone, Kenya........
If you are looking for the very best fire fighting trucks, you've come to the right place, our team of highly trained, experienced and knowledgeable experts will listen to your needs and find the right solution for your requirement.
Our consistent ranking as top producer assures our customers of long term stability and support today.and in the years to come.
Our fire trucks can be divided into water tank fire trucks, foam fire trucks, dry powder fire trucks, water tower fire trucks, rescue fire trucks, airport fire trucks and hydraulic ladder fire trucks. these fire fighting trucks could be available on the following chassis brand: Isuzu,Iveco,Beiben,Howo,Shacman,Dongfeng,Foton,JMC,JAC,FAW.




Fire Fighting Truck

Firefighter Truck,Fire Fighting Vehicle,Water Tank Fire Fighting Truck,Fire Fighting Truck

Hubei Jiangnan Special Automobile Co., Ltd , https://www.dingshunglass.com