Tongling Nonferrous metals company Tongguanshan, Copper Mountain Lion and processing plant, do not consider the original design of the ore off the mud. Production practice has proved that both the pit mining and the exposed mining ore contain a certain amount of slime. Due to the presence of slime, the following problems are caused: (1) the medium-fine crushing cone crusher cake, causing the spring to break, the overload trip; (2) plugging the funnel and the discharge port; (3) when the mud content in the ore More than 5%, when the water content reaches 8%, causing coarse mining silo mining, belt mining; (4) production capacity of the crushing workshop decreased; (5) deterioration of workers' operating conditions; (6) reduction of mineral processing technical indicators. Therefore, it is necessary to find an effective way to solve the mud problem in the ore.
The nature of the ore and the origin of the mud The Tongguanshan copper mine is a skarn deposit. Stone dressing can be divided into skarn, a magnetic iron ore type, pyrrhotite - pyrite, serpentine - talc type, shale angle - Quartzite, oxidized ore type. The oxidation rate is about 10%. Since the mine has been expanding its mining capacity after 1959, the filling of fillers (including a large number of yellow mud iron caps, etc.) and the use of high-efficiency large blasting methods have led to an increase in the ore content. By 1973, the ore contained 10 to 13% of mud and the water content increased from 2% to 7%.
Washing and de-slurry process and its improvement: The original design of the Tongguanshan plant crushing process was a three-stage closed-circuit process, and the de-sludge facility was not considered (Figure 1). In order to remove the mud from the ore, three improvements were made to the crushing process in 159, 1962 and 1973. Through improvement (Fig. 2), the -0.3mm slime and +0.3mm ore have been basically separated, eliminating the cake-breaking phenomenon of the medium and fine crusher, improving the working conditions and increasing the production capacity.

figure 1


[next]

figure 2


Treatment of slime The slime removed from the crushed ore mud shaker is more complicated in nature. In order to avoid the harmful effects of mud mines on lump ore and to facilitate the selection and control, a separate flotation method is adopted.
The slime is first buffered by a thickener and graded by a single spiral classifier. The classifier returns sand into the cone ball mill , and the grinding product and the classifier overflow and merge, and the Ñ"500mm hydrocyclone constitutes a closed circuit, and the hydrocyclone overflows to directly float. Through the above improvements, the fineness of the flotation slurry is greatly improved, the selection index is improved, and the operation is stable (see the table below).
Grinding fineness and flotation index before and after the improvement of slime flow

Mesh or micron

Grinding fineness (% by weight)

Flotation indicator (%)

70 mesh

100

140

200

270

37 micron

27

19

13

-13

total

Raw ore grade

Concentrate grade

Recovery rate

Before the process changes

4.9

6.01

7.15

9.6

12.65

9.9

7.65

12.23

8.57

21.34

100

1.02

5.32

70.65

After the process changes

1.42

2.24

5.9

17.8

14.74

10.26

15.35

9.45

22.84

100

0.952

10.057

78.44
Miniature Bearings:Grooved Ball Bearing - That is standard bearings with single or double deep groove outer ring(double slotted bearings), Hot sale bearings No 625ZZ ,626ZZ, 608ZZ(double grooved bearing 608) etc .

It is very popular for injection window roller or bathroom sliding roller easily.
1. Type: Grooved Ball Bearing
2. Brand Name: NMN or OEM , ect.
3. Bore Class 100; HRC 55.
4. Groove Depth: 0.5mm, this depth will make the plastic more well connected with the groove.
5. Outer Ring: Thickest ( this could make sure the outer ring won't be broken easily.
6. Cage: Steel,Brass,Nylon

7. Precision Rating: ABEC-1/ P0, ABEC-3/P6, ABEC-5/P5, ABEC-7/P4
8. Seals Type: open , 2RS , ZZ
9. Number of Row: Single Row , Double Row10. Material: Chrome steel, Stainless steel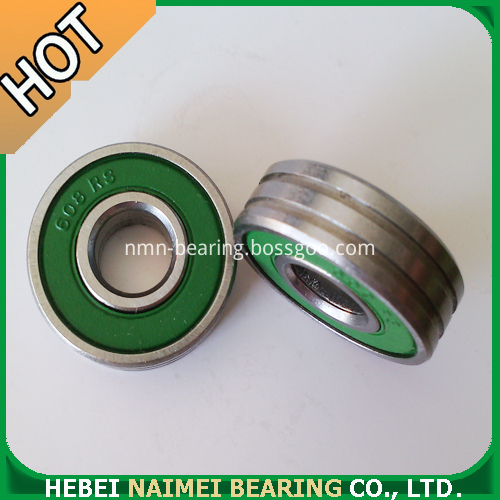 Grooved Ball Bearing

Grooved Ball Bearing,Miniature Grooved Ball Bearing,Grooved Plastic Bearing,Slotted Mini Ball Bearing

Hebei Naimei Bearing Co., Ltd. , https://www.nmn-bearing.com