In 2010, the machinery industry combined major project construction with the development needs of key industries, developed a batch of major technological equipment with independent intellectual property rights, accelerated the process of autonomy of major technological equipment, and significantly improved the ability to equip the national economy.

The machinery industry is an important part of the equipment industry and an important basic, strategic and pillar industry in China. Its production capacity directly determines the level of the entire manufacturing industry. In 2010, the machinery industry introduced and digested and absorbed foreign advanced technologies, supported enterprise technological transformation and technological breakthroughs, and the capacity for independent innovation was greatly enhanced.

Through scientific and technological innovation, the autonomy of our country's machinery and equipment and the steady improvement of product water. At present, large-scale open-pit mines and large-scale construction machinery are basically autonomous; the design and manufacturing technology of boilers, steam turbines, and generators for the ultra-supercritical thermal power unit of 1,000 kilowatts has reached more than 85%. Large horsepower tractors and a number of farm implements have ended the history of dependence on imports. The representatives of the entire process steel equipment independently designed and manufactured, and the independently researched and developed ultra high voltage power transmission and distribution complete sets of equipment indicate that the complete capacity of the mechanical equipment has been significantly improved. The self-sufficiency rate of China's machinery and equipment has increased from 70% in the "Ninth Five-Year Plan" period to 85% now.

The scientific and technological innovation of the machinery industry has also made a number of landmark achievements. The high-end equipment has achieved remarkable results in independent innovation and the self-sufficiency rate of high-end equipment has risen rapidly. Since 2010, many high-end products of independent innovation have come out one after another. For example, key castings and forgings required for nuclear power equipment have been independently developed; breakthroughs have been made in the key technologies for the third generation of nuclear main pipelines; the world's first ±800 kV Yunguang special HVDC transmission project was completed and put into operation; the first 4-axis CNC precision grinding machine was introduced; the first 1100 MW nuclear power half-speed rotor was born.

What's more gratifying is that the independent innovation of China's machinery industry is advanced from the host level to the key supporting components. Some independent key innovations and special high-quality raw materials that have been subject to import for a long time have accelerated their pace of independent innovation. For example, the North Heavy Industry Co., Ltd. has developed a large-caliber thick-walled seamless steel pipe that is urgently needed for the production of supercritical boilers by relying on a homemade 36,000-tonne ferrous metal vertical extrusion machine; high-quality cold-rolled oriented silicon steel sheets developed by Baosteel and Wuhan Iron and Steel have already started to Large-scale transformers have been expanded in production; Baosteel and Jiangsu Yinhuan Precise Steel Tube Co., Ltd. have cooperated to develop U-shaped tubes that are urgently needed for large-scale thermal power and nuclear power equipment; Xidian Electric and TBEA have built high-quality AC-DC high-voltage insulation casings. Rolling production line; Shanghai Huaming 500,000 volt transformer tap changer three series of products passed the appraisal; natural gas long-distance pipelines with large-sized valves made a breakthrough in domestic production.

Industry science and technology innovation has promoted the development of the product structure from the low end to the high end. At present, China's 280-horsepower high-power wheeled tractors have achieved mass production; the "maize seed and straw harvesting key technology and equipment" have been successfully developed, which has solved the technical bottleneck of corn harvesting equipment and improved the structure of agricultural machinery and equipment. The new machine tools have been developed to the CNC, precision, high efficiency and large-scale development, providing equipment support for important areas such as aerospace.

The remarkable achievements in scientific and technological progress have contributed to the sound and rapid development of the machinery industry. According to statistics, the average annual growth rate of the machinery industry is over 23% for ten years, and production and sales have reached a new level of one trillion yuan each year for eight consecutive years. From January to November 2010, the total output value of new products of the industry was 2.427536 trillion yuan, a year-on-year increase of 34.64%, and the growth rate was 14.79 percentage points higher than the same period of last year. This shows that the machinery industry is shifting from extensive to innovation-driven and endogenous growth. A solid step was taken on the road.



Aromatic Hydrocarbons & Specialties

Kylin Chemicals have been engaged in the research & manufacturing a selected range of chemical intermediates & specialties for over one decades,such as hydroxylamine sulfate.

We have the expertise in manufacturing high quality aromatic hydrocarbons specialties, serving our customers worldwide in the field of pharmaceuticals, agrochemicals, organic synthesis and coatings, etc. Our main aromatic hydrocarbon product include 2,3-Dihydroindene, Decahydronathalene, Tetrahydronaphthalene, Carbazole, Acenaphthene and Phenanthrene,1 2 3 4-tetrahydronaphthalene, etc.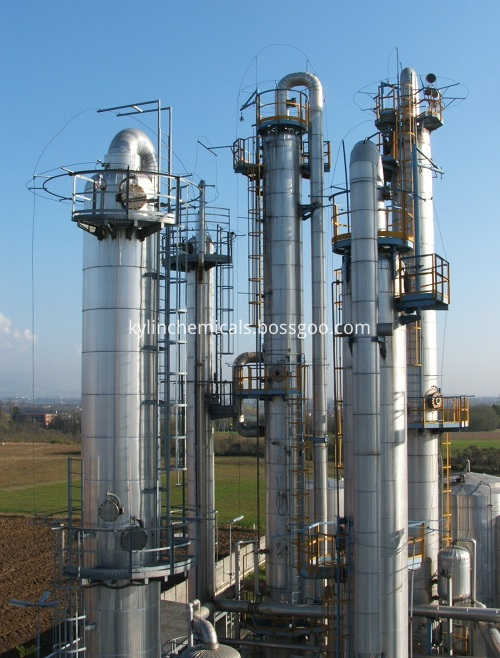 Our manufacturing base have the advanced DCS operated hydrogenation & rectification facilities, effective quality-control systems, and a very professional technical team, assuring the quality, stability and sustainability to meet/exceed our customers` needs.

Aromatic Hydrocarbons, Intermediates & Specialties,Advanced Intermediates,Chemical Intermediates,Chemical Specialities

Kylin Chemicals Co., Ltd. , https://www.kylin-chemicals.com