Model NO.: ap-17

Car Make: Cadillac

Brand: Monroe

Damping Force Direction: Single Effect

Size: by Your Drawing

QC System: Self-Inspection, The Third Party Inspection.

OEM & ODM: Available

Leading Time: 4-6 Weeks

Trademark: OEM and ODM both are acceptable

Transport Package: Standard Export Package or as Your Requirement

Specification: SGS, ISO9001

Origin: Shandong, China

HS Code: 73259990

Model NO.: ap-17

Car Make: Cadillac

Brand: Monroe

Damping Force Direction: Single Effect

Size: by Your Drawing

QC System: Self-Inspection, The Third Party Inspection.

OEM & ODM: Available

Leading Time: 4-6 Weeks

Trademark: OEM and ODM both are acceptable

Transport Package: Standard Export Package or as Your Requirement

Specification: SGS, ISO9001

Origin: Shandong, China

HS Code: 73259990

Shaanxi Automotible/Qingdao FAW Truck Air Spring for Driver's Cab (AP-02)
1.18 years of experience in casting and forging for European and U. S. Markets.
2. OEM & ODM products range: Auto parts, Truck Parts, Engine parts, Agriculture equipment parts, Train parts, Hardware, etc.
 
 
 
 
 
3. Material: SUS304, 40Cr, 45#, Staniless steel or other materials as you request.
4. Product weight: From 0.1~50kg;
5. Machining equipment: CNC, Lathe machine, Milling machine, Drilling machine, and so on;
6. Test equipment: Optical Spectrum Analyzer, CMM, Hardness test equipment, Tensile test machine;
7. Surface treatment: Galvanized, Sand blasting.
 
1.18 years of experience in casting and forging for European and U. S. Markets.
2. OEM & ODM products range: Auto parts, Truck Parts, Engine parts, Agriculture equipment parts, Train parts, Hardware, etc.
 
 
 
 
 
3. Material: SUS304, 40Cr, 45#, Staniless steel or other materials as you request.
4. Product weight: From 0.1~50kg;
5. Machining equipment: CNC, Lathe machine, Milling machine, Drilling machine, and so on;
6. Test equipment: Optical Spectrum Analyzer, CMM, Hardness test equipment, Tensile test machine;
7. Surface treatment: Galvanized, Sand blasting.
Shaanxi Automotible/Qingdao FAW Truck Air Spring for Driver's Cab (AP-02)
1.18 years of experience in casting and forging for European and U. S. Markets.
2. OEM & ODM products range: Auto parts, Truck Parts, Engine parts, Agriculture equipment parts, Train parts, Hardware, etc.
 
 
 
 
 
3. Material: SUS304, 40Cr, 45#, Staniless steel or other materials as you request.
4. Product weight: From 0.1~50kg;
5. Machining equipment: CNC, Lathe machine, Milling machine, Drilling machine, and so on;
6. Test equipment: Optical Spectrum Analyzer, CMM, Hardness test equipment, Tensile test machine;
7. Surface treatment: Galvanized, Sand blasting.
 
1.18 years of experience in casting and forging for European and U. S. Markets.
2. OEM & ODM products range: Auto parts, Truck Parts, Engine parts, Agriculture equipment parts, Train parts, Hardware, etc.
 
 
 
 
 
3. Material: SUS304, 40Cr, 45#, Staniless steel or other materials as you request.
4. Product weight: From 0.1~50kg;
5. Machining equipment: CNC, Lathe machine, Milling machine, Drilling machine, and so on;
6. Test equipment: Optical Spectrum Analyzer, CMM, Hardness test equipment, Tensile test machine;
7. Surface treatment: Galvanized, Sand blasting.



1.Automatic continuous feeding, unlimited length, improve production efficiency and reduce production costs.

2.It adopts numerical control, running information and status feedback in time, and the operation is simple.

3.The use of numerical control program adjustment ensures the machining accuracy of the workpiece.

4.Hydraulic clamping of the material, smooth operation, to ensure the processing accuracy of the workpiece.

5.The device is simple and convenient to operate, safe and reliable in performance, and high in production efficiency.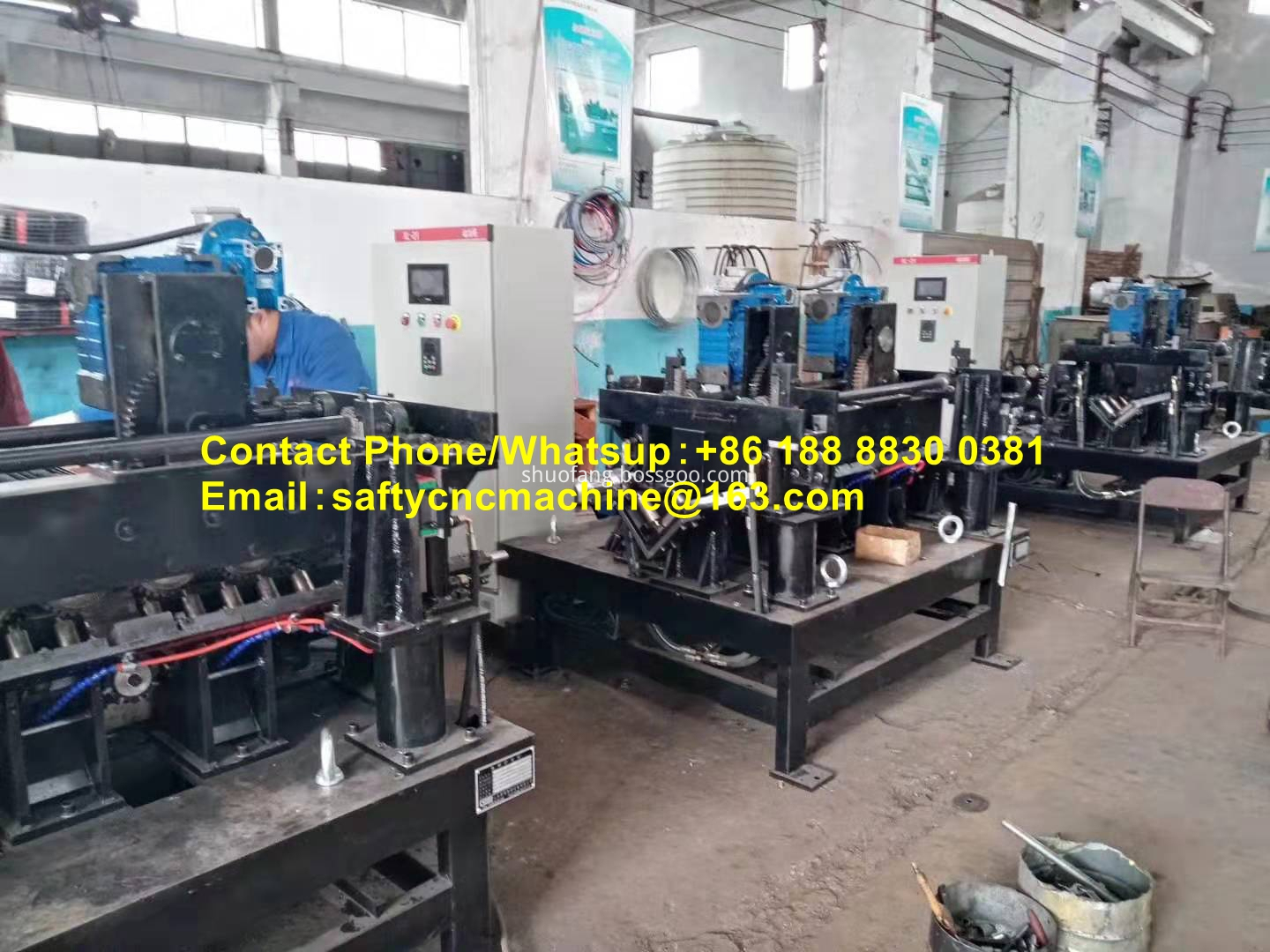 Heel Milling Machine,Milling Machine for Angle Steel Heel,Angle Steel Heel Milling

Shandong ShuoFang Environmental Technology Co., Ltd. , https://www.chinafincnc.com