 Nanjing Tianta Machinery Equipment Co., Ltd. specializes in designing all kinds of general-purpose, special-purpose electric blast drying equipment . The maximum working temperature is 200 °C, 300 °C, 500 °C, 650 °C and many other types. Widely used in industrial heating, material drying, aging, polymer layer curing, hydrogen removal, aging electronic components and hardware, electroplating, paint, plastic, toys, footwear, silk screen, leather and other industries dry dehydration, baking heating .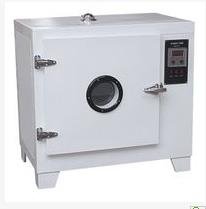 Blast drying oven

The temperature difference inside the box is high-precision ±1.5°C, ±3°C, ±5°C. Users can choose according to their needs. The dryer has a novel design. According to different uses, there is a special recirculating air duct fan set, and the temperature uniformity inside the box is better. Advanced structure. Whether it is a fixed type, trolley type, continuous belt type, reasonable design and strong adaptability. The universal fixed type is suitable for medium and small parts, and the trolley type is suitable for the processing of medium and large parts (the trolley is divided into manual electric type), which is convenient and labor-saving. The mesh belt type is suitable for mass-processed items and has high continuous operation efficiency. In addition to conventional temperature control, it can also be equipped with high-precision microcomputer temperature control cabinet, thyristor power supply, PID temperature control, and more precise control. Set up the program, time control, overheating burnout alarm, exhaust explosion-proof devices, etc., use safety.

News link:

The blast drying oven is suitable for the baking, drying and dissolving of articles in industrial and mining enterprises, universities, medical and health, and research institutes. Widely used in industrial and mining enterprises, medical and health, medicine, biology, agriculture, electronics, chemical industry, environmental protection, scientific research units and other departments for baking, drying, dissolving, and disinfecting articles.

our dished heads are used in a variety of applications and industries such as storage tanks, pressure vessels, road tank, food processing operations, chemical plants ,Nuclear operation, Oil Refining, Architectural feature, power generation.

Due to our forming experience and equipment, we can spin or press the first part of the process of forming your products, It depend on the thickness and material performance,

Our main products are 2:1 SE dished heads, Torispherical heads, Cones,Hemispherical Heads etc

Choosing the right type is the key decision for each customer and one for which our experience team to happy to give advice, simple speaking, the torispherical heads, the less ressure it can withstand, Conversely, the deeper dished heads, for example Elliptical heads, hemispherical, the greater pressure it can take.

Our in house-capability to form dished heads by cold press brings major benefits to our customers and sets us apart from others dished heads manufactures

For carbon steel dished heads, we can forming this dished heads from 76-9000mm in diameter and below 250mm in thickness

The general forming process as the below sketches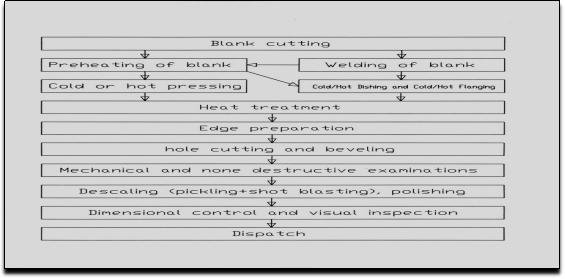 Technical Delivery Condition
1,Our material (hot Rolled Unalloyed structural steel, high and low temperature steel, High Alloy steel)
We have no carbon steel plates in our stock and most of plates are from Chinese steel market or mill. Meanwhile As Japanese owed company, We can also source the plates from Japanese ex-mill if end user can`t accept ex-chinese mill.
Basically the delivery time shall be below 20days for dished heads if plates are from steel market. and Max plates width from them is below 2200mm. it means that the seamless dished heads diameter shall be below about 1800mm.
The max width CS plates that Chinese mill can do is below 4700mm,and dished heads can be seamless below 3800mm in diameter.




2,Enquiry/order required information

We can give our clients once they gave us the below information

But if clients tolerance is higher than below Hokkai standards, it shall be provided to Hokkai prior to offer or ordering.



Stainless Steel Elliptical Head

Stainless Steel Elliptical Head,Stainless Steel Elliptical Dish,Stainless Steel Sprinkler Elliptical Head,Stainless Steel Material Elliptical Head

YIXING HOKKAI HEAD PLATE CO.,LTD , http://www.hokkaidishedend.com