Model NO.: CS41

HS Code: 8481804090
CS41 Free Ball float Steam Trap
 

Brief Introduction.

 

Advantages.

1.Continues discharging saturation condensed water without accumulation, and so get the maximum thermal efficiency.

2.When steam pressure changes, the ball float can adjust the opening of valve seat without influence, and so it is stable.

3.With automatic and manual releaser, and so its exhaust performance is good without airlock and working is smooth without noise.

 

Working Principle.

a.When the device starts up,as the temperature of steam trap is low,sylphon temperature sensing element contracts,air vent hole (A) open,discharging the air inside continiously,realizing quick opening.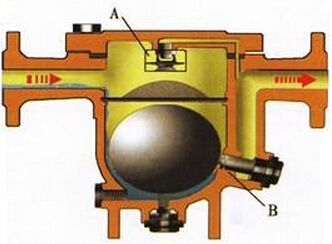 b.When condensed water flow into steam trap,air is discharged from air vent(A) automatically,float ball rises with level of condensed water,then condensed water is discharged from drain hole(B).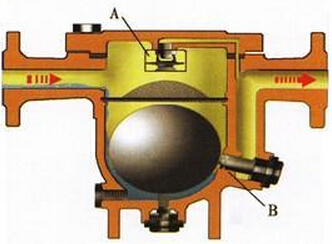 c.When hot condensed water and steam flow into steam trap,the liquid in sylphon expands under high temperature,air vent(A) close accordingly,float ball rise and down with the level of condensed water,discharging hot condensed water.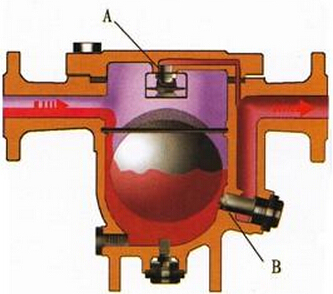 d.When condensed water stop flowing into the steam trap,float ball falls with level of condensed water and close the drain hole(B),as the drain hole is always under the level of condensed water,forming water sealing,no steam leaking.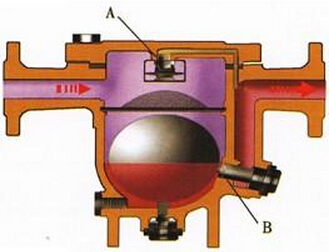 Application.

By automation, speediness and continuing features, this valve is used for the steam heating equipment, condensation water recovery system and the place where needs removing condensation water at quick speed, and so stop steam leakage effectively and obtain optimum heating.

 

 

Main Technical Parameters and Indexes of Performance.

 
| | | | |
| --- | --- | --- | --- |
| Mini Working Pressure | 0.01Mpa | Maxi allowable temperature for cast steel | 42 5 |
| Mini Working Pressure | 0.01Mpa | Maxi allowable temperature for cast steel | 42 5 |
| Mini degree of super cooling | 0 | Maxi allowable temperature for stainless steel | 525 |
| Leakage rate with loading | 0 | Working Medium | Saturated vapor, condensed water |
| Maxi allowable rate of back pressure | 80% | Exhaust plant | Stainless steel / alloy |
 

Material of Main Component.

 
| | |
| --- | --- |
| Valve body, cap | WCB / 304 |
| Valve seat | 2Cr13 / 304 |
| Floating ball | Stainless steel |
| Filter | Stainless steel |
 

 

 

 

 

Main External

 

Dimensions.

 

 
Producnt model
DN
Conjunction method
Max.allowable temp.
Material of valve body
External dimension (mm)
L
H1
H2
W
A series
Free Ball floating
Steam Trap
15
Internal thread
350
WCB
120
82
89
84
20
Internal thread
350
WCB
120
82
89
84
25
Internal thread
350
WCB
120
84
95
84
B series
Free Ball float
Steam Trap
15
Internal thread
350
WCB
150
84
114
114
20
Internal thread
350
WCB
150
84
114
114
25
Internal thread
350
WCB
150
86.5
116.5
114
32
Internal thread
350
WCB
155
98.5
104.5
114
40
Internal thread
350
WCB
155
98.5
104.5
114
50
Internal thread
350
WCB
210
98.5
104.5
114
C series
Free Ball float
Steam Trap
15
Flange
350
WCB
195
94.5
107
132
20
Flange
350
WCB
195
97
104.5
132
25
Flange
350
WCB
215
101.5
111.5
140
D series
Free Ball float
Steam Trap
25
Flange
350
WCB
270
102.5
151
180
32
Flange
350
WCB
270
109
154.5
180
40
Flange
350
WCB
280
112
170
184
50
Flange
350
WCB
290
117
175
195
F series
Free Ball float
Steam Trap
50
Flange
350
WCB
410
132
129
270
65
Flange
350
WCB
410
139.5
136.5
270
80
Flange
350
WCB
430
148
313
275
100
Flange
350
WCB
430
158
323
280
G series
Free Ball float
Steam Trap
80
Flange
350
WCB
550
147
331
335
100
Flange
350
WCB
550
147
331
335
125
Flange
350
WCB
550
169.5
353.5
335
150
Flange
350
WCB
550
169.5
353.5
335
Magnetic Drill Press,Magnetic Drilling Machine,Magnetic Drill Bit Set,Magnetic Drill Bits

WEISS MACHINERY CO., LTD. , https://www.weissmachinery.com